Frequently Asked Questions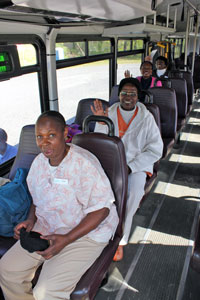 WCTS provides transportation to the residents of Williamsburg County, South Carolina 7 days a week with the exception of December 25th. Transportation services include:
Please see our Fares schedule.
When riding the bus, please make front seats available for elderly or disabled passengers. After paying your fare, please take your seat as quickly as possible. This allows the driver to start moving and stay on schedule. When walking on the bus, hold on to the grab rails or seat backs. Do not move around on a moving bus. Wait until the bus stops to get out of your seat.
Please note these safety guidelines:

Disruptive behavior will not be tolerated on WCTS buses, including smoking and the use of audio devices without headphones.
For your safety, please remain seated while the bus is moving.
Please help us keep the buses clean and take all trash with you when you leave the vehicle.
Remember to remove all personal items when departing the bus.

WCTS buses are ADA compliant and are equipped with lifts and wheelchair positions. Service animals are always welcome on board WCTS vehicles. The information contained in this brochure is also available in alternative formats and may be obtained by calling 843.355.6975.

If you have mobility needs that require special assistance, please call our office for service in your area. Requested transportation will be provided in areas where routed buses are not presently available. To help us serve you better, we encourage you to provide us with a 24-hour advance notice before your trip.
If you are a resident of Williamsburg county and currently receive Medicaid benefits, your transportation costs to medical treatment facilities may be covered by Medicaid. To determine your eligibility, please call LogistiCare at (866) 445-9954.
WCTS is committed to ensuring that no person is excluded from participation in, or denied the benefits of its transit services on the basis of race, color, or national origin, as protected by Title VI of the Civil Rights Act of 1964. For more information please see the Title VI Info page on our website.